Percy Dominey and Mr Hooper
Jimmy Knight, Unknown; Fred Virgin; Mr Mabey
Percy Dominey and Mr Hooper take a break outside the Reading Room
AFS -hose practice in Watery Lane. From left: Jimmy Knight, Unknown;
Fred Virgin; Mr Mabey
Soon after the outbreak of war on 3 September 1939, evacuees began arriving in the village. They came in groups from London by train at all times of the day and night and were found homes around the village by billeting officers. Brian Marsh was one of the local Scouts who were assigned the task of escorting the evacuees to their host families. A payment of 8 shillings and 6 pence per evacuee was made to the head of the household to cover costs, camp beds and blankets were provided free. Two or three adults had accompanied them. Miss Howard was in charge and lodged with Miss Luckham on the corner of Jesty's Avenue and Littlemoor Rd.
By January 1940 over 800 children had arrived in Weymouth. To begin with the school was not big enough to accommodate the village children and evacuees, so to the dismay of some of the children, a system was developed whereby all the children received some schooling. The village children attended school in the mornings and the evacuees in the afternoons. The evacuees spent the mornings reading, playing games and singing in the Reading Room at the bottom of Elwell Street. The WI Hut and Reynolds Institute also played their part. Later the evacuees from Upwey and Broadwey attended class in the Temperance Hall on Broadwey Hill.
At St Nicholas School in Broadwey there was a delay in opening school in September 1939, due to the billeting of evacuees from Acton and staff being fully employed in this work. The education of Broadwey children took place on a double shift system as per the Board of Education: Broadwey 9am - 12.30pm; Southfield School, Acton 1pm to 4.30pm. This continued for 2 months then normal sessions resumed with the evacuees integrated.
Extract from 'WW2 People's War' which was an initiative by Artsreach and the BBC, Spring 2006. Evacuation to Weymouth 1939 as remembered by Mary Ann Grierson then aged 12. ' In August 1939 we were living in Chiswick and going to school there. One day just before 1 September we left school with gas masks and labels around our necks, in a coach bound for a main London Station. Our Mother came with us as an official 'helper'.
We had no idea where we were being taken. There were scenes of distress on the platform by children whose Mothers were not accompanying them. We were lucky!! It transpired we were heading for Weymouth. We were delighted - we had visions of lazy days on the beach!! I always remember arriving in Weymouth and as I got down from the train the strong smell of fish, which was waiting on the platform in boxes for transportation elsewhere.
We were all taken by coach to the small school in a village called Broadwey. We sat in the classrooms at the desks while the village ladies picked us over, deciding which they would have to billet. (My mother was disgusted - like a cattle market, she said). In the end we were lucky to all be billeted together with a couple called Beer. Mr Beer ran a 4 acre market garden (Summerclose Nurseries) and Mrs Beer was a teacher in Dorchester.
The village children went to their school in the mornings and we went in the afternoon. We enjoyed our stay with Mr & Mrs Beer. He had an orchard and let us have a camp there. My Mother took over the kitchen and of course all the food was fresh. I remember being taken on a bus down to the Weymouth Seafront but we couldn't go on the beach as the bay was full of Warships. I remember 3 September, I was with Mr Beer in his conservatory and we were weighing and packing tomatoes. My Mother came out of the kitchen and she was crying and said the War had started. We stayed there for a while more and then as there was what was called 'The Phoney War' - nothing was happening we returned to Chiswick.'
Many parents refused to send children to school between 27 May and 11 June 1944 until an unexploded 1000kg bomb was removed from land 70 yards to the rear of the school
There was plenty of exercise on Sundays as children walked to the school to attend morning Sunday school which was followed by morning service at the church. Home for dinner and then back for the afternoon session run by the Misses Rogers, from Weylands in Elwell Street. Rev Bryant talked to the children during the afternoon class.
The children were kept busy during this time 'doing their bit' for the war effort. Such as picking blackberries in the fields of Westbrook Farm for the WI to make jam. Prim Hughes (nee Dominey) remembers collecting rose-hips in large baskets and bundles of stinging nettles which were taken to Miss Luckham's in Jesty's Avenue. To collect the stinging nettles you had to be armed with thick gloves and scissors, what happened to the nettles isn't known.
Filling sandbags was another occupation, these were used to protect vulnerable buildings such as the water works on the Friar Waddon road. Brian Marsh remembers this building being sandbagged right to the roof. The Scouts also toured the village with wheelbarrows collecting any iron or aluminium from fields and hedgerows, which the council would melt down for reuse. A gang of workmen with acetylene torches removed iron railings and gates from the fronts of houses, it was said that these were to be made into ammunition.
In June 1940 French soldiers from Dunkirk were billeted in Broadwey and district. Miss Luckham was an Air Raid Warden, and regularly examined the children's gas masks. There was an air raid siren located near The Retreat, this was still occasionally tested until the 1960's.
The local WI played an important role and members were asked to remember 'that one job of war work was to look after the production of food, grow vegetables and see that waste in all directions is prevented.' In her report for 1941, President Mrs Borradaile Bell recalled the misgivings that arose amongst some, of carrying on under war time conditions and difficulties, but the way in which these difficulties had been surmounted showed members were filled with the right spirit. Work of all kinds had been done - caring for evacuees - knitting for the forces - producing food and national savings, but there must be no slackening of effort - everyone must work more, knit more, sew more and above all pray more.
In March 1941 the WI agreed to form a Fruit Preserving Centre in the village. Miss Bown kindly offered the use of an outbuilding/stables at Dawlish House. The Committee were Mrs Borradaile Bell; Miss Walder; Mrs Forsey; Miss Strode; Mrs Menzies plus non- WI members Miss Bath; Mrs Bowditch; Mrs Pegler; and Mrs Rogers.
People loaned stewpans, primus stoves, earthenware bowls and gave gifts of jam pots. The centre was ready for work on 23 June. By the end of July 215lbs of jam had been made. It was suggested that retailers with whom members were registered should have first opportunity to buy the jam. August 500lbs jam made and in October a Government inspector visited the centre and gave an excellent report (I have seen the jam and jelly which is of very good set, flavour and colour. Yield and presentation are excellent). In November it was reported that 1,961lbs of jams and jellys and 300lbs of chutneys and pickles had been made over the season.
During September a further 73lbs of blackberries were picked by Upwey school children and made into jam/jelly.
In 1942 the centre opened on 30 June, villagers were told that fruit should be sent on Tuesday or Friday between 10am and 12 noon. Purchased aluminium preserving pan, asked for loan of large pair of scales, basins and washing up bath. They received a satisfactory government inspection. By the end of September nearly 500lb of preserves had been made. Dried fruits or dates were urgently needed for making chutney and any member providing a few would have first opportunity of purchasing the chutney. The centre closed in October - 700lbs of preserves, pickles and chutneys had been made in the season. The centre operated during 1943 and 1944 but in June 1945 it was decided not to take part in Fruit Preservation as there was no surplus fruit in the district.
Men who weren't ca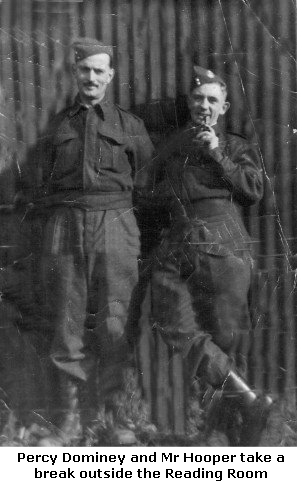 lled up to the forces joined either the Fire Service, Home Guard or ARP.
A contingent of the Home Guard was formed under the leadership of Captain Borrodale-Bell. They met at Southbrook House and carried out their drills in the field next to the Reading Room. Some of those involved were Mr Ward from North Manor Farm, Mr Barnes from Watery Lane, Walt Tizzard, Percy Dominey and Stephen Rogers from Church Street. The air raid warning post was also at Southbrook and William Bolt from Stottingway was one of the wardens. Uninhabited East Hill Farm Cottage was also used as the Home Guard HQ.
Len Smith who lived in Old Station Road remembers one duty was to guard the water reservoir at the top of Gould's Hill. 'We went to the army training camp at Chickerell to learn how to prime and throw grenades.'
The Upwey and Broadwey Auxiliary Fire Service were based at Mr Mabey's house, Thornhill, Littlemoor Road. The unit's Studebaker car and pump were also garaged there. Other fire stations in the area were at Chalbury Lodge, the Spa Hotel and Turks Head at Chickerell. Two men were on duty at any one time and slept at the station during night standby. One night a week two of the despatch riders (they rode Enfield and Panther motorcycles) manned the station. When the sirens sounded they had to get the pump ready for action. The siren was sited behind the petrol station at Grays Corner. The part time firemen worked alongside regular fireman and competitions were regularly held between the various stations to increase speed and efficiency, on Whiteheads Sports field. Locals involved with the AFS were Mr Mabey (officer in charge); Dick Bird (from Court Rd); Jimmy Knight (from Shortlands Rd); Dick Baker (the local baker); Fred Virgin (from Stottingway); Gordon Thorner, 'Kips' Ken Ford and Brian Marsh who were despatch riders.
Villagers gathered to watch the various civil defence, air raid wardens and fire service practice sessions which usually took place at the bottom of Stottingway. The wardens would practice putt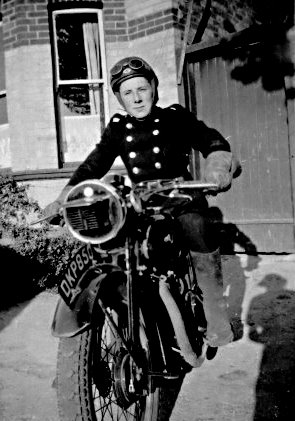 ing out incendiary bombs with stirrup pumps and the fire service ran through their drills using water from the river.
Water tanks labelled 'SWS' for static water supply were sited around the village, one being on the green at the top of Stottingway. These were kept full for use by the fire service. Any fires occurring on the lower road could be dealt with using water from the river.
The armed forces also had a presence in the village. A bomb disposal unit was based in an empty cottage in Stottingway Street. A search and gun battery were camped on Ridgeway Hill just above the railway bridge. American soldiers camped on Bayard Hill and coloured American soldiers operated a laundry for soldiers in the area behind the wall opposite The Mason's Arms.
The Construction Battalion of the US navy took over part of Wessex Carriers premises on the Dorchester Road to provide a repair service for military vehicles. The Royal Engineers and bomb disposal squad also used the building as a store/base. Some of the Bomb Disposal Team were housed in Standard Cottages in Laurel Lane, despite the fact they had been condemned.
Part of Upwey Manor was used as a drawing office by Whitehead's who were torpedo makers. Mr Churchill and Mr Ford were firewatchers.
American soldiers commandeered the petrol station at Grays Corner and it was manned 24 hours a day. The Harley Davidson motorcycles ridden by the soldiers were an attraction for the local lads, plus the chance of chewing gum and sweets.
Signposts were removed and mile stones camouflaged in an attempt to confuse the enemy. Church bells were silent, only to be rung in the event of an enemy invasion. Following several collisions and near misses to both drivers and pedestrians, lamp posts, telegraph poles and telephone kiosks were painted with a 6" white band of paint at eye level to make them more visible at night.
There was a financial benefit to the 'blackout'. An estimated £51 was saved when the Weymouth Gas Company, who provided street lighting in the village, reduced their charges for the period when public lighting was prohibited.
Redlands playing fields, an area of 13 acres purchased from Broadwey farmer Alfred Symonds in 1938 were ploughed and sown with oats and barley in the spring of 1940 as part of 'Dig for Victory'. Wheat was sown for the 1941 harvest.
Everyone wanted to do their bit to help the lads fighting abroad. Dawlish House was the collection point for the Womens Institute's Forces Book Drive, which involved collecting books and magazines for distribution to 'our brave lads - where ever they are'.
AFS Despatch Rider Brian Marsh
The ladies of the Upwey and Broadwey British Legion regularly sent parcels to the RAF and local men serving with the Army. At their meeting in January 1940 it was reported that 48 garments had been knitted, and 55 Christmas parcels of cigarettes and chocolates sent to servicemen from the district.
Many grandmothers, mothers and daughters worked together knitting socks, in their minds for their fathers, uncles and older brothers who were away fighting. If the younger knitter was not skilled enough to turn a heel, then she would pass the leg of the sock to gran or mother, who 'did the difficult bit'.
The boys and lads grew in importance as they took over some of 'Father's jobs', such as chopping sticks and tending the vegetable plot.
People soon identified 'safe' places to gather whenever the air raid warning started wailing. Some had air raid shelters in their gardens, which were usually very dark, cold and slightly smelly, others took shelter in their homes as best they could. Mothers' could be heard to cry to the children 'get under the kitchen table and stay there'. Being generally square and solid they could offer some protection. Some families obtained 'Morrison' shelters which were tables made of iron.
At number 3 Stottingway (now number 15) Beryl Virgin and her daughters would gather under the stairs. Looking back she often said that this had been a very silly thing to do - the gas pipe ran along the wall!
With nightly raids, residents of Elwell Street and Ridgeway were so concerned that the nearest official first aid post was four miles away in Westham Road, Weymouth, they gained permission from Dr Gordon Wallace to set up a voluntary first aid post in February 1941. A room in the home of Mrs Haines at Little Hill was used as the First Aid Post for four years. Mrs Stanley Foot, a member of the St John Ambulance took charge and arranged first aid classes for the public spirited volunteers.
The WI Hut had many uses, from temporary classroom and meeting room during the day to dance hall at night. Many local organisations held dances or whist drives to help keep spirits up.
Whilst it must have been very worrying and difficult times for the adults, many of the children climbed Windsbatch and Ridgeway hills to watch the dog fights taking place in the skies above them. Army trucks transporting American soldiers were eagerly awaited by the children as the soldiers could be relied upon to throw out sweets and chewing gum as they passed by.
Bob Fox, who lived in Chapel Lane recalls 'Our gang of Roy Brooks, Geoff Strange, Ray Tidby, Eric Guppy and myself made a 'bunker' on Bincombe Heath where we would fight to the death if the Germans invaded - shades of Just William'.
By 1942 the Civil Defence were calling on eligible women between the ages of 20 and 45 to 'join up'. Locally several young women joined the Land Army and were fortunate to be placed on farms in the village, which meant they could live at home. Gwenda Hampton (nee Notley) worked at Westbrook Farm which was part of Roger's Dairy and Mary Hayward (nee Phillips) worked at Gill's chicken farm in Littlemead, Broadwey. The days were long and the girls worked hard, receiving 28 shillings for a 48 hour week.
Gwenda describes a day which started with milking at 6am, followed by hoeing in the fields, afternoon milking and cleaning out the cowsheds. One highlight was if she was asked to take one of the horses to the blacksmiths for shoeing, this meant a ride to Mr Stickland at Nottington Corner, Mr Haines on Ridgeway or over the hill to Martinstown. On her one day off a week she helped her parents tend the two or three allotments which supplied much of their food.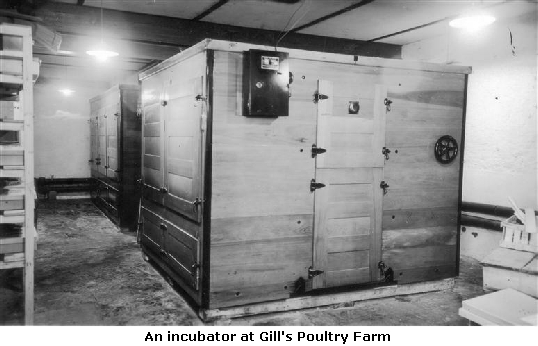 Mary Hayward remembers being issued with a stirrup pump and doing several stints fire-watching at Broadwey School. In October 1940 the council advertised for sale stirrup pumps, complete with nozzle and hose for £1 - urging residents not to delay as supplies were limited.
'During January 1943 I had to do war work, so I decided to join the Women's Land Army and was made a member on the 22nd of February 1943. I had to go to Dorchester to a large house in Weymouth Avenue to collect all my clothes and they told me when to start work at Gills Poultry farm, which was on the farm where I lived as they had applied for me as their Land Girl.
I started work in the houses that held day old chicks, to be reared on for several weeks, before being sold. They were then put in special cardboard boxes and taken to Upwey Junction to go on the train to their destination. All day old chicks were sent by this method on trains straight from the incubators which held the eggs for several days before hatching out. During the early days of the war, they had a Japanese man who sexed all the chicks as soon as they were hatched. But he was later put in a prisoner of war camp, when we entered the war against Japan. I worked with Frank Cornick and Betty King who later married Frank's son when he returned from being a prisoner of war in Germany.
The farm where I worked also was a dairy farm where my father worked bottling milk and during the summer my mother did haymaking, usually on the cart with the men, pitching forkfuls of hay up to her, no bales of hay in those days. All loose hay was put into barns or made into ricks in the field. We had American soldiers arrive on the farm, they were billeted in tents. I remember my mother cooking bacon and egg suppers for about six of them. We always kept chickens, so had plenty of eggs, but they brought the bacon and other items that were rationed at the time. I can see my father now, in the evenings with a bottle of cream in which he had skimmed off the milk, shaking it for hours until it had turned into butter and then working salt into it for a better taste. Lovely on my morning toast after so much margarine.
My mother, myself and a young man called Donald Mintern, who lived in Mill Street, did fire watching one night in St Nicholas School, Broadwey, opposite the church. I don't know what we would have done if incendiary bombs had been dropped on the church or school as we only had a stirrup pump and buckets of water and sand. We had two camp beds, so we had to take it in turns to get a few hours sleep. I stayed in the Land Army until the 25th July 1945'
Phyllis Osment was secretary at Gills chicken farm in Mill Street in the 1940's and 1950's. She remembered Chinese/Japanese chicken sexers worked there. Chicks were sent to farms in boxes by rail from station. You could see the boxes moving while they were waiting to be loaded onto a train. Joan Carter was a land girl at Gills, she lodged at The Croft, at bottom on Ridgeway. Mary Phillips was also a land girl at Gills. Eric Cornick was manager after the war.'
From their viewpoint on Ridgeway and Windsbatch, villagers watched as ships and barrage balloons gathered in Weymouth Bay and Portland harbour on the build up to 'D' Day. Then they were gone - along with the soldiers camped on the hills who almost disappeared overnight, with very little trace of them ever being there.
Marion Biles (nee Johns) remembers Mrs Ralph and Mrs Johns holding sales of work to fund a party for the returning POW's.
Naturally the end of the war was a cause of great celebrations, many were centred on the children of the village. The Mayor and Mayoress (Mr & Mrs Goddard) were kept extremely busy judging various competitions. At the Ship Inn, Andrea Baggs presented the Mayoress with a bouquet. Mrs Goddard was attending a party for 30 children and 45 adults. After the 'sit down' tea, the children were entertained with music from Mr and Mrs Drew and Mr K Wiltshire.
Mr A Scott organised a full day of Victory sports for children from Upwey and Broadwey. The events were held in Mark Stickland's field where the Mayor and Mayoress judged various competitions including the fancy dress which was won by Joan Bown, second place went to Doris Bown. Heather Lock, from The Croft, presented the Mayoress with a bouquet. Tea was organised for about 200 children, who were extremely well fed that day as Mr Wagstaff provided them all with a fish and chip supper!
On 20 May 1945 as part of the Victory in Europe celebrations the bellringers at St Laurence Church rang a quarter peal of grandsire doubles. The ringers were E Osmond, E Carpenter, S Bryant (conductor), G Notley, S Foot and E Gillam.
By June 1945, Mark Russell and Percy Cornick, two local men who had been detained as Prisoners of War had returned home. They paid a visit to the school to thank the children who had been regularly sending them books, games and cigarettes whilst they were detained.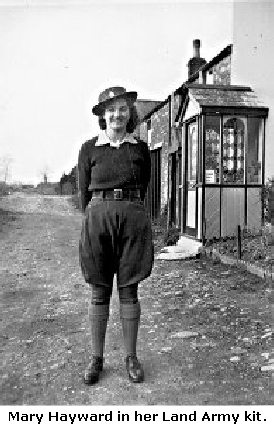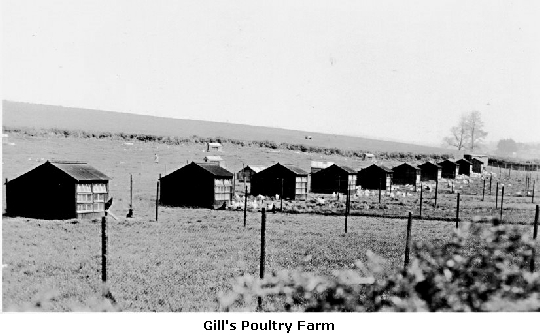 Village Life During
The War Years