By 1937 Miss A M Dunn had joined Miss Jane Corbin at the post office. The front of the building had been modified to incorporate a posting box in the centre of the window. This box was quite unusual as it could be opened by postmen both from the outside and from inside the post office. The wooden telephone kiosk was still situated in far left corner of the room and the grandfather clock steadily ticked time away next to the door to the house.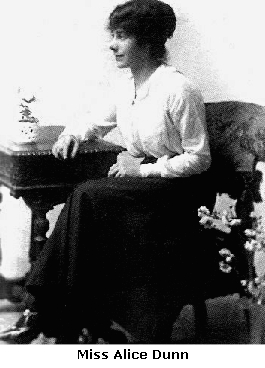 Postman Mr C W King, was presented with the Imperial Service Medal for meritorious service at Upwey Post Office upon his retirement in March 1937. The presentation was made by Mr A H Romans, head postmaster of Weymouth and the superintendent Mr E J Elliott. Local staff who attended were Miss J Corbin, Miss A Dunn and fellow Upwey postmen E M Loveless, C H Samways, J L Collins and A D Scott.
The Head postmaster read a letter from the Secretary of the Home Office, stating that it was His Majesty's pleasure to award Mr King the Imperial Service Medal. Mr Romans recalled that Mr King joined the service in 1895, as a boy messenger at Maiden Newton. In 1899 he was transferred to Upwey and was briefly in Weymouth returning to Upwey in 1926, from which duty he had recently retired owing to ill-health. Rev Bryant, along with all the post office staff, hoped that Mr King's health would soon be restored so that he could enjoy his well-earned freedom from duty.The cricket club continued to flourish, playing from the cricket field just beyond the railway arch in Chapel Lane, in a field owned by farmer Arthur Virgin. With a first and second eleven, they entered the Weymouth Evening Cricket League, the Echo Challenge Cup competition and the Dorset Junior Cup. Some years were better than others, but they could always rely on Mr W Strange to keep the pitch in excellent condition and Mrs Johnnie Walker and ladies to provide ample refreshments in the wagon barn for home games.
There were many events to celebrate the Coronation of King George VI in May 1937. The church was floodlit on Sunday 9 May and again on Coronation Day.
The Weymouth Education Authority organised the distribution of enamelled and gilt badges for every schoolchild of the borough at a cost of £110. Schools in the Borough were closed for four days to allow the children to take part in the celebrations.
On Coronation Day itself the celebrations began with a service on the village green at 9.30am. The British Legion marched under the command of Captain Buckley and were joined by the children who had paraded from the school, led by the choir. There was a rousing three cheers for the King from all present.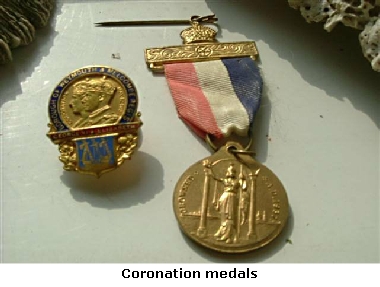 In the afternoon the fun began with a fancy dress parade around the village, from the bottom of Elwell Street along Church Street to a field in Stottingway, where the outfits were judged by Mrs Featherstonehaugh Frampton and Dr Goodden. People of all ages took part from 76 year old Ambrose Burden to 5 year old James Bryant.
Some bunting had been provided by the council, and to encourage villagers to decorate their own homes prizes were awarded for the best dressed houses. The winners being Mrs Green, Mrs Legg, Mrs King, Mrs Burden, Mrs Beck, Mrs Board and Mrs R Williams.
At 2pm there were sports for all ages under the direction of Captain Gunning assisted by A Cooke, G Collins, B Harris, E Notley, S Rogers and W Toms.
1937 Coronation Day Prize Winners
Fancy Dress Under 7 (boys) James Bryant as John Bull
(girls) Sheila Paul as Britannia
7 to 16 (boys) Michael Wootton as Royal Navy
(girls) Sheila Bareham as Gypsy
Gentlemen Rev A Bryant as Farm Labourer
Ladies Mrs J Trevett as Joan
Decorated Bicycle W Burden, B Murphy, G Samways
Decorated Pram Joan Crocker, Nellie Edwards, Iris Billen
Flat race under 5 1 M Hill 2 D Brown 3 D Smith
6-10 1 H Brown 2 R Tewskesbury 3 R Brooks
under 14 boys 1 B Marsh 2 D Crocker 3 R Daniells
under 14 girls 1 M Cornick 2 S Shutler 3 M Trevett
Potato race 1 B Marsh 2 S Paul 3 P King
Thread needle (under 14) 1 P King/E Guppy 2 S Shutler/J Evans
100 yds boys under 14 1 B Marsh 2 R Daniells 3 S Paul
girls 1 S Shutler 2 M Cornick 3M Edwards/S Paul
Egg and spoon girls 1 S Shutler 2 N Riggs 3 P King
Three legged race 1 M Edwards/J Crocker 2 P Gissen/B Scones
Sack race 1 R Courtney 2 C Burden 3 G Samways
Long jump boys 1 Samways 2 Burden 3 Cornick
girls 1 B Baker 2 D Stanger
High jump boys 1 G Samways 2 W Curtis
girls 1 D Stanger 2 B Baker
100yds ladies 1 D Stanger 2 J Burden 3 J Hart
100yds men 1 Virgin 2 Marsh 3 Legg
After all this exercise and excitement a sweet tea was served for the children in Westbrook Barn at 4pm. A meat tea followed in the barn at 5pm for adults. Mr Bowditch the butcher oversaw the carving of a spit roasted pig, looking resplendent in his striped butcher's apron and wielding a large carving knife and fork. Mrs Rogers was one of the many ladies who helped with preparations.
The Melody Makers provided music for dancing on the green and at 8.30pm led a procession to Bayard Farm on Ridgeway where a huge bonfire had been built. By 10pm this beacon could be seen for miles around.
The Weymouth Education Authority organised a schools pageant of 'England through the ages'. Every school in the Borough took part in a procession staged between St John's church and the Statue in Weymouth. Children not involved with the tableaux entertained the crowds with morris dancing. Upwey school's tableaux was a workhouse scene and boy sweeps c.1840.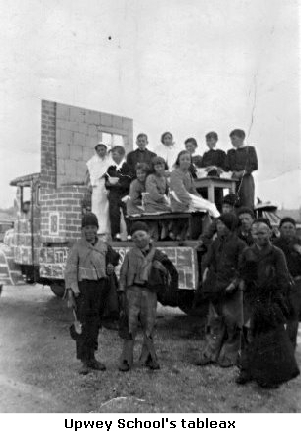 A sports day and tea was organised for all schools at various venues around the town.
277 children from Upwey, Broadwey and Radipole came together at Broadwey rectory field on the afternoon of Thursday 13 May. Councillors P Lovell and H Medlam helped Rev E Walder (Broadwey) and Rev A Bryant (Upwey) with the smooth running of the various events. The Mayor (Councillor Bert Biles) spoke to the children at the start of the afternoon, using amplifying apparatus which Messrs Bennett and Escott had provided to assist with announcing events.
At the end of the afternoon tea was served by the teachers. There was no building large enough to accommodate all the children together for tea, so Radipole returned by bus to their school, Broadwey returned to their school and the Upwey children had tea in the Temperance Hall on Broadwey Hill.
Upwey, Broadwey and Radipole Schools'
Coronation Sports 1937
(U)pwey (B)roadwey (R)adipole
40 yds boys 1 Cyril Symes (R) 2 M Roper (B) 3 Harold Bown (U)
girls 1 B Dewson (U) 2 I Bennett (B) 3 B Murphy (U)
50 yds boys 1 R Bell (B) 2 B Marsh (B) 3 J Bryant (U)
girls 1 D Cutler [R] 2 B Virgin (B) 3 J Windsor (B)
60 yds boys 1 D Legg (B) 2 J Carter (U)
girls 1 L Bartlett (B) 2 M Edwards (U) 3 J Watts (B)
100 yds boys 1 L Trevett (B) 2 J Burden (U) 3 W Hounsell (B)
girls 1 R Slade (B) 2 E Pashen (B) 3 P Hodder (B)
Balloon race 1 R Tidby (U) 2 P Andrews (U) 3 B Taylor (U)
1 A Swain (B) 2 N Gooch (U) 3 B Dukes (B)
1 M Roper (B) 2 T Roper (B) 3 R Tidby (U)
Flat Race 1 L Marquis [R] 2 R Tidby (U) 3R Tewskesbury (B)
Hurdle Race boys 1 B Dukes (B) 2 D Box [R] 3 K Greening (B)
1 L Marquis [R] 2 G Brewer (B) 3 I Roy [R]
1 G Strange (U) 2 H Bown (U) 3 S Harvey (B)
girls 1 J Carter (U) 2 M White (B) 3 J Wills (B)
1 B Dewson (U) 2 J Bennett (B) 3 E Spicer (B)
1 B Murphy (U) 2 B Fellows (U) 3 A Swain (B)
Kicking Football 1 C Symes [R] 2 G Brewer (B) 3 G Strange (U)
Driving Horses 1 B Crocker/B Dewson (U) 2 F Christopher/ H Bown (U)
3 T Roper/ A Swain (B)
1 J Bennett/P Andrews (B) 2 B Murphy/R Brooks (U)
3 I Roy/ M Griffiths [R]
Potato Race boys 1 D Legg (B) 2 A Hodges (U) 3 G Hansford [R]
1 J Carter (U) 2 D Legg/B Fox tie (B)
1 J Beck (U) 2 D Mintern (B) 3 L Trevett (B)
Egg & Spoon girls 1 S Osmond (B) 2 B Bailey (B) 3 R Ward (B)
1 K Preston (B) 2 L Bartlett (B) 3 N Spicer (B)
1 I Swain (B) 2 B Strange (U) 3 P King (B)
3 Legged Race 1 J Beck/L Trevett 2 M Edwards/J Crocker
3 V Bailey/B Hodges
Celebrations continued on Friday 14 May when a jolly crowd danced until 1am at the Coronation Carnival dance held at the WI hut. Fancy dress prizes were awarded to ladies 1 Mrs Sargeant (a victorian lady); 2 Miss Upshall (paintbox). Gentlemen 1 Mr R Osmund (Coronation); 2 Mr A Dredge (a chip off the old block). Competition dance prizes were won by Miss Ellen and Mr Masters; Mrs Rogers and Mr Davis; Miss B Roberts and Mr B Critchell. The judges were Mrs Rainey-Robinson, Mrs C Ferguson, Miss Stokes and Dr Pridham.
The Upwey & Broadwey Nursing Association, chaired by Dr J A Pridham since its inception in 1921 welcomed their new president Mrs Male of Upwey House at the annual meeting in April 1937. Tribute was paid to
Tribute was paid to the past president Mrs Frances Preston who had sadly passed away. Many people worked extremely hard to raise funds for the association, including organising the annual dance, flag day, the supper and jumble sales. Nurse Curtis had made 1710 visits, attended 5 operations and 24 confinements during the past year. In a bid to reduce maternal mortality the Midwives Act of 1936 provided for the organisation of a domicilary service of salaried midwives under the control of the Town Council. Upwey & Broadwey Nursing Association were one of many who were willing to continue the present midwifery service, attending women in their own homes, both as midwives and maternity nurses. From July 1937 the Association extended their service to cover Preston and fees were 35 shillings for the services of a midwife and 25 shillings for the services of a maternity nurse. If the patient did not already contribute to the nursing association the fee was increased by 5 shillings.
In 1937 Nurse Curtis moved from Stottingway Street to a newly built bungalow in Weyview Crescent.
House building continued all through the 1930's. The need for houses to rent encouraged many landowners to build and the council built more homes in Chapel Lane.
In 1934 Mr O W Baker was given permission to build three houses on land next to Shepstone's garage. Andrews & Andrews were the architects and Short the builders. The first occupants were: at number 686 George Trevett (the coalman) who had previously lived in Elwell Street; at 684 Norman Edwards and at 682 the Shepstones. Later Mr Baker's widow moved into number 686 and their son Dick lived at 684.
Around that time the wooden buildings of both Shepstone's garage and Wessex Carriers were rebuilt.
John Grey's Wessex Carriers premises were built as haulage premises working two or three lorries. Bert Hart and Reg Dominey were among his drivers. The right-hand side of the building was used to garage cars owned by local people. John Grey had one petrol pump selling Russian Oil Product (ROP) petrol in direct competition with Les Shepstone who had two BP pumps next door.
In January 1938 Weymouth Council recommended that 2.567 acres to the south of Chapel Lane be purchased from Mrs Bowditch and Messrs S & J Roper, for the erection of council houses. A tender to build was accepted from Messrs James Bros in March 1939 for the construction of 15 houses and 6 flats. The houses would be a mix of 2 and 4 bedrooms, while the one bedroom flats were for aged persons. The final cost of construction was £8489 10s 11d, to include roads and sewers. New tenants were able to move in during the spring of 1941.
Standard Cottages in Laurel Lane, immediately behind The Royal Standard and owned by Eldridge Pope Brewery were condemned in 1937/8 and the White family, who had lived there for many years, moved out. Despite being condemned the cottages were taken over by the army and used to house some of the Bomb Disposal Team who used part of the premises at 676 Dorchester Road as a store/base. The cottages were demolished after the war, becoming a car park for the Royal Standard.
The village was policed by a constable who lived at 6 Prospect Place and the sergeant at 596 Dorchester Road, Broadwey (just past the Co-op and before the doctors) until the police houses were built at the top of Stottingway Street in 1938.
Upwey Wishing Well and the church continued to be a very popular place with visitors . During a seven week period in the summer of 1936 over 7000 people had signed the visitors book in the church. The many tea gardens flourished - Davidge had the Wishing Well Gardens; Willis ran Clovelly opposite the church gate; Clarke's opposite the mill. In the summer months you could also get fruit teas at Primrose Cottage, Church Street (Clements) and Burdens market garden in Elwell Street.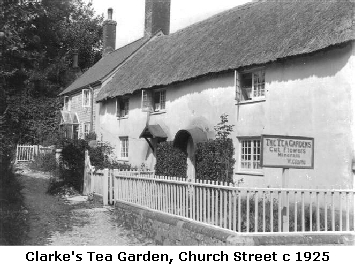 Youngsters who had a bike could earn a few pennies delivering telegrams from the post office. Frank and Jack Beck were Butcher Bowditch's delivery boys. Neighbours willingly paid a couple of pence to enterprising children who would collect wireless accumulators on a Saturday morning to take to Shepstone's garage for charging. The money made was more often than not spent at one of the sweet shops. By waiting until closing time at the bakers shop on Dorchester Road, you could often buy cakes and buns at half price.
Elwell Street was still considered the shopping centre of the village. As well as Mr Bowditch the butcher at number 40, Maynards opened a fish and chip shop a couple of nights a week next to Barber's double fronted 'Times Stores' at number 34, which was a general store.
The Meech family of Wabey House in Church Street continued to provide employment and tied-housing for local men at both Upwey and Sutton Poyntz mills. As well as millers they employed drivers for their 'B H Meech & Sons' lorries to transport the grain.
When their eldest son Mr R Meech married in January 1937, employees and their families were entertained to high tea at Bassetts restaurant in Weymouth followed by a visit to the cinema.
The South Dorset and Cattistock Hunts regularly met at Upwey, either at the Wishing Well or on the green at the bottom of Stottingway. Hundreds of people would turn out to follow the hunt and watch the chase from various vantage points.
The railway motor which stopped at Upwey station was the most convenient transport for mothers who needed to take their prams with them, as the guard would heave the pram into the guard's van for the short journey to Weymouth or Dorchester. The motor also stopped at the Wishing Well Halt, just below the hairpin bend on Ridgeway, but the steep steps up to the platform proved difficult for many people and impossible for those with pushchairs or prams.
However the Wishing Well Halt was a favourite place to watch the trains as you could see them either appearing from, or disappearing into, the Bincombe Tunnel.
The Abbotsbury motor, which stopped at Upwey Junction and Upwey station, followed a scenic route through the Wey valley and was used as a treat for families to have a day out.
If you could persuade a neighbour to look after your children it was easier to catch the bus as the route passed through the village and did not involve the long walk to the station.
The National Bus Company's number 22 bus ran from Weymouth to Upwey every 20 minutes, the destination at Upwey alternated between the Royal Oak (top of Elwell St) and the Wishing Well. Return fare in 1938 was 9d.
Ward's copse just beyond Westbrook Farm provided a good place to play and many mothers received posies of primroses, bluebells and other wild flowers gathered there. The large open space of Hurdlemead provided an ideal playground for children with enough room for cricket and football. Dens and 'houses' could be made from the stacks of hay and straw at hay-making time. As soon as the first conkers fell from the horsechestnut trees which lined the route to school from Elwell Street to the Mill, competitions began to find the champion conker.
Collections of wild flowers, and the 'Butterfly Competition' continued to be a popular events for children at fetes and shows. For a few days prior to the competition gardens and allotments were invaded by boys and girls eager to secure a prize for collecting the most cabbage white butterflies. Once caught they were contained in jars and shoeboxes until the day of the competition when the 'catch' was proudly displayed. The tortoiseshell, red admiral and peacock butterflies which covered the lilac and buddelia were generally left in peace as they caused no damage to the 'greens'.


Village Life in the 1930's 2/2