24 July 1956 Sports held in Pucksey Meadow - Red Team the winners.
2 Oct 1956 PTA formed
6 Dec 1956 St Nicholas Day - top two classes (73 children) saw 'The Snow Queen' at Weymouth Teacher Training College.
15 March 1957 School broken into last evening. 10/10d in cash and 4 fountain pens missing. 16 March vagrant arrested in Weymouth, he had the pens in his pocket.
25 Mar 1957 Visit by Gwent Children's Theatre - performance of Hansel and Gretel
28 May 1957 Outing to Isle of Wight.
26 June 1957 Folk Dancing at Bovington.
18 July 1957 Prize Giving at the new Memorial Hall in Victoria Avenue.
31 July 1957 Mrs Dowding left.
11 Nov 1957 20 of the oldest children attended the unveiling of the Memorial Plaque at the Memorial Hall at 3pm.
2 July 1958 Folk Dancing at Bovington.
4 July 1958 Top class taken to Poole Pottery and Power Station.
21 July 1958 Sports Day at Redlands.
29 April 1959 Juniors taken to Jubilee Clock to see the Queen and Prince Charles. The Infants walked to Lorton Lane to see the Royal Train go by.
4 June 1959 Swimming lessons began at Broadwey Secondary Modern School.
5 June 1959 33 children went to Bath & West show.
15 July 1959 Sports Day at Redlands.
12 Jan 1960 The Littlemoor lunchtime bus service began. However the school had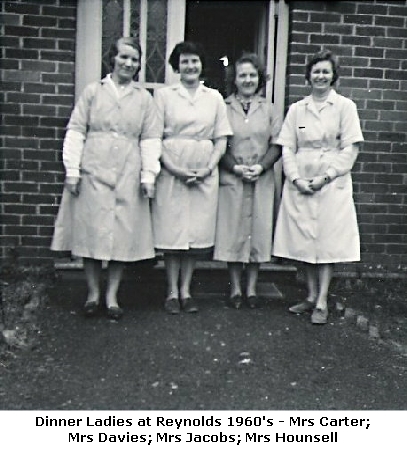 to make provision for children to have sandwiches at school, as some were going home on the bus at lunch time and not returning.
6 May 1960 School Closed Princes Margaret's Wedding
15 June 1960 Trip to Paignton Zoo.
29 June 1960 Folk dancing at Bovington.
1960 July - Fete helps school to buy a tape recorder. Every summer the PTA of St Nicholas School hold a fete. Normally it is a small affair in the school. But this year the event was on a bigger scale in the Broadwey Memorial Hall. The reason was to raise sufficient money to pay for a tape recorder. The recorder costing 59gn is to be presented by the association to the school at the prize giving on Thursday afternoon. It will be used by the 200 children at the school for speech training, choir practice and recordings of music and plays.
31 May 1961 Top class boys taken to Technical College to see an Exhibition on The Commonwealth.
6 June 1961 Visit to United Dairies Factory at Sturminster Marshall.
July 1961 Performance by Children's Puppet Theatre.
14 July 1961 Rev Brooks presented leavers with the New English Bible.
1 Aug 1961 Mr Allen, Mrs Woolley and 74 children transferred to the new Littlemoor School.
13 Sept 1961 113 on roll reorganised into 4 classes.
2 June 1962 Rose Queen Festival at St Edmunds Church Fete - Folk Dance Team won the competition and a cup.
4 June 1962 Visit to Dorset Family Bakery.
9 Jan 1963 Surrounded by snow and hard packed ice, toilets frozen, winds icy.
15 Feb 1963 Closed for half term. Toilets still frozen.
14 May 1963 A showing of the school's own colour film 'A Morning at St Nicholas School' shot by Mr Ronald Meech, schools' photographer.
16 Sept 1963 Hole suddenly appeared in boys playground about 6' from entrance to toilets. It was 3' deep opening to a width of a rainwater cask with a chamber running off in a southwest direction for about 5'. Hole was filled with concrete.
6 Nov 1963 Mr Hudson, headteacher also temporary head at Upwey School, due to the illness of Mr Stokes.
9 Dec 1963 New Radipole School to open.
10 Mar 1964 Combined meeting of PTA's of Upwey and Broadwey to hear Cannon Pratt and Mr Hilton outline issues to be decided if new Church School for the two parishes were to be secured.
15 Apr 1964 TV installed by Education Authority, aerial paid for by PTA.
22 July 1964 Sports Day at Redlands.
5 March 1965 Measles outbreak.
2 April 1965- 30 children took part in Country Dancing at Radipole School.
10 May 1965 Mrs Hounsell commenced as Clerical Assistant.
24 June 1965 60 took part in South Dorset Folk Dance Festival at Holy Trinity.
30 June 1965 Folk dancing at Bovington.
23 July 1965 Mrs Dibben retired.
20 July 1965 Sports Day cancelled due to heavy rain.
2 Nov 1965 School Closed - 700th Anniversary of First Parliament.
8 Jan 1966 Christmas Party held for 96 children at Memorial Hall.
16 June 1966 Talk by RSPCA.
20 June 1966 Folk Dancing at Holy Trinity.
29 June 1966 Prize Day at Memorial Hall.
27 Sept 1966 Top class visit Charmouth Beach and found fossils.
24 Oct 1966 Top Class taken to Gaumont to see 'The Greatest Story Ever Told'.
1 Nov 1966 Suzanne Sims (1st) and Susan Ward (3rd) won prizes in Dorset Evening Echo Painting Competition.
15 Feb 1967 Boys were given permission to play football at Redlands on Wednesday afternoons.
12 April 1967 Mrs Evans appointed.
12 April 1967 12 children from Form 5 went on an educational trip to Belgium with Mrs Stokes.
Trips were repeated in 1968 and 1970.
16 May 1967 Dentist visits.
27 June 1967 Visit to Salisbury Cathedral and Stonehenge.
6 Sept 1967 Rev Cumming is Broadwey's vicar.
Sept 1967 Visits to Dorchester Museum, Maiden Castle.
13 Oct 1967 Police give Road Safety talks.
29 Mar 1968 Folk Dancing at Radipole.
2 July 1968 Geography trip around South Dorset .
27 Sept 1968 Mrs Hutchings retired after 18 years as cleaner, Mrs Arnold appointed.
31 Oct 1968 - Managers of Upwey and Broadwey Schools recommend proposals for a new school for 200, be put to the Parochial Church Council for consideration.
18 Dec 1968 Carol service - church packed with the biggest congregation ever.
18 June 1969 South Dorset Folk Dance Festival at Holy Trinity attended by top class
15 Dec 1969 Annual party at Memorial Hall.
12 Mar 1970 Top class visit RNAS Portland.
20 Mar 1970 Folk dancing at Radipole.
17 June 1970 South Dorset Folk Dance Festival at Wyke Regis.
29 Oct 1970 Visit by Bible Exhibition.
18 Jan 1971 Received permission from Ministry of Education to go ahead with plans for building a new school.
12 Feb 1971 All accounts decimalised.
8 Mar 1971 A fire in the shop below the Temperance Hall filled the classroom with smoke, children went to Reynolds Institute.
26 Mar 1971 - 16 in the top class went to Folk Dancing at Radipole.
1 June 1971 Jayne Appleyard and Noel Hope represented the school at a tea party at Weymouth College which Princess Anne attended.
8 June 1971 South Dorset Folk Dance Festival at Holy Trinity School.
14 June 1971 9 children visit the Lake District with Littlemoor and Preston Schools. Also in 1972
28 Oct 1971 Permission given to start building the new school, next to Broadwey Secondary Modern School.
17 Mar 1972 Folk Dancing at Radipole School.
14 June 1972 South Dorset Folk Dance Festival at Holy Trinity
22 June 1972 Mayor R Gainey visited the school, his last opportunity before the school closes
12 July 1972 - Last End of Term Service taken by Rev Graham.